How Memory Works: 10 Things Most People Get Wrong – Quite the fascinating article about something that is important to all of us in one way or another.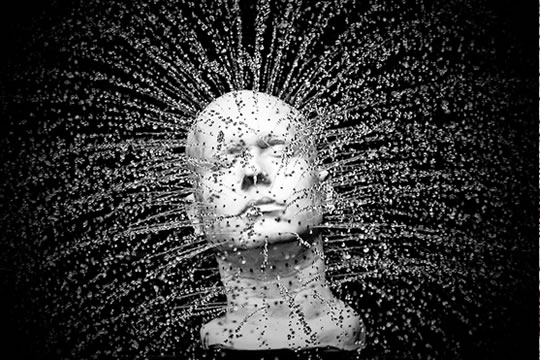 "If we remembered everything we should on most occasions be as ill off as if we remembered nothing." ~William James
"1. Memory does not decay
Everyone has experienced the frustration of not being able to recall a fact from memory. It could be someone's name, the French for 'town hall' or where the car is parked.
So it seems obvious that memories decay, like fruit going off. But the research tends not to support this view. Instead many researchers think that in fact memory has a limitless capacity. Everything is stored in there but, without rehearsal, memories become harder to access. This means it's not the memory that's 'going off' it's the ability to retrieve it."
"3. 'Lost' memories can live again
There's another side to the fact that memories do not decay. That's the idea that although memories may become less accessible, they can be revived.
Even things that you have long been unable to recall are still there, waiting to be woken. Experiments have shown that even information that has long become inaccessible can still be revived. Indeed it is then re-learned more quickly than new information.
This is like the fact that you never forget how to ride a bike, but it doesn't just apply to motor skills, it also applies to memories."
"6. The foresight bias
Everyone must have experienced this. You have an idea that is so great you think it's impossible you'll ever forget it. So you don't bother writing it down. Within ten minutes you've forgotten it and it never comes back.
We see the same thing in the lab. In one study by Koriat and Bjork (2005) people learned pairs of words like 'light-lamp', then are asked to estimate how likely it is they'll be able to answer 'lamp' when later given the prompt 'light'. They are massively over-confident and the reason is this foresight bias. When they get the word 'light' later all kinds of other things come to mind like 'bulb' or 'shade' and the correct answer isn't nearly as easy to recall as they predicted."
"7. When recall is easy, learning is low
We feel clever when we recall something instantly and stupid when it takes ages. But in terms of learning, we should feel the exact reverse. When something comes to mind quickly, i.e. we do no work to recall it, no learning occurs. When we have to work hard to bring it to consciousness, something cool happens: we learn.
When people's memories are tested, the more work they have done to construct, or re-construct, the target memory, the stronger the memory eventually becomes. This is why proper learning techniques always involve testing, because just staring at the information isn't good enough: learning needs effortful recall."
Here's How The World's Most Brilliant People Scheduled Their Days – How people structure their days is quite fascinating, especially when one actually has flexibility to experiment with creating life around what works best (this post includes a video, text, and infographic material.)
"Alas, there are but 24 hours in a day.
And when you have a seemingly insurmountable load of work, it can be a quite a challenge to even know where to start. But remember that history's most legendary figures — from Beethoven to Beyonce — had just as little (or just as much) time as you have.
Using the book Daily Rituals: How Artists Work by Mason Currey, RJ Andrews atInfo We Trust designed some enlightening visualizations of how history's most creative and influential figures structured their days. Unfortunately, there is no common prescription for the perfect schedule, and each person had a very different set of rituals.
Based on the charts, we learn that some of history's icons had more eccentric habits than others. Consider Beethoven, who would painstakingly count out 60 coffee beans for his morning brew: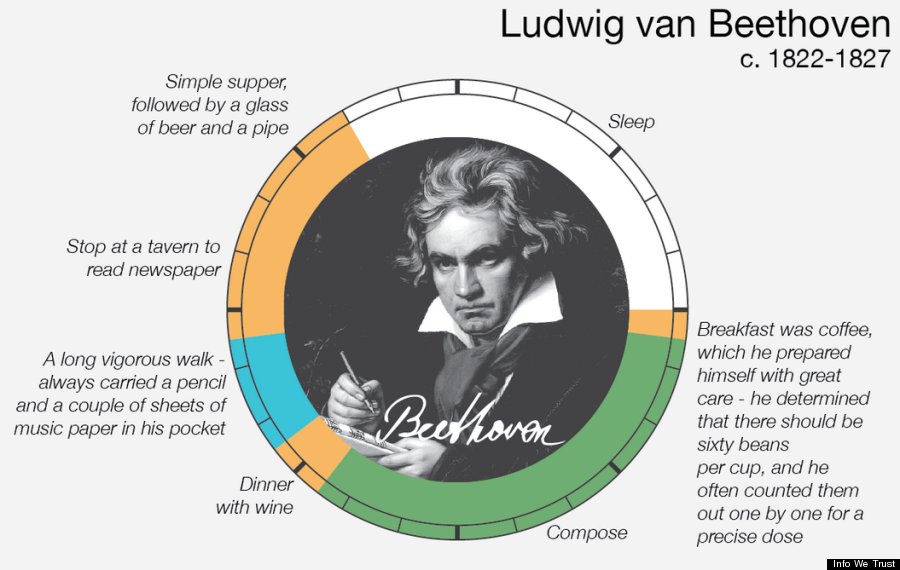 Think your mornings are stressful? French author Victor Hugo would be "awakened by daily gunshot," before taking an ice-cold, public bath on his roof. He'd also visit the barber every day: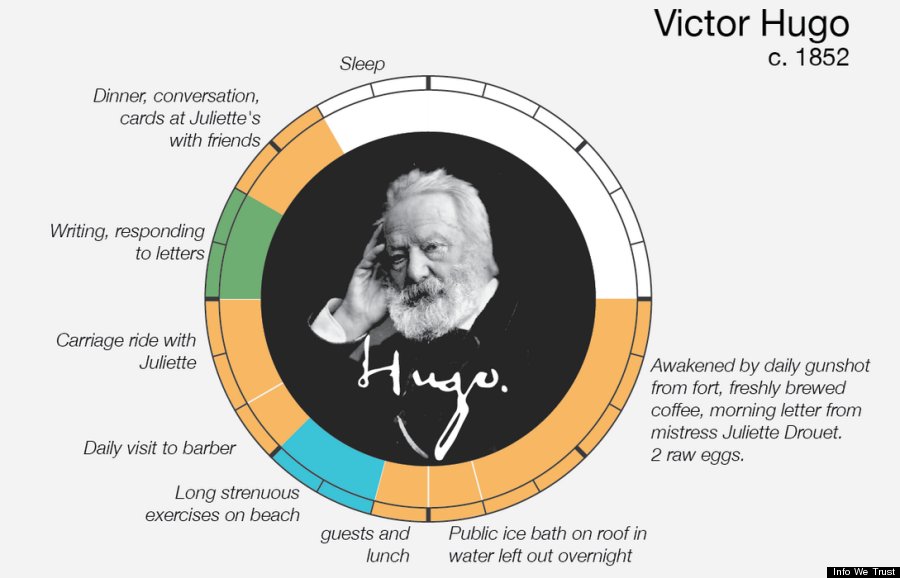 "
On a related note, my husband, who works remotely and has slight flexibility in experimenting with his schedule wrote about the 3 most popular ways to structure a work day and how to find the best time of the day to work. (In reality, he works pretty much non-stop through the day, but he's definitely a morning-crush-it guy!)