Note: Titles in title headings are hyperlinked.
It's hard to believe another summer month has flown by! I do have my April and May reading still to post, but I'm going to post June for now and go back and make sure I have all the books on the other lists (May's list is incredulously short. Something about vacation?? Beach?? Kids?? I recorded some as I read, but didn't finish up writing out either month.)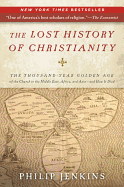 The Lost History of Christianity covers the history of Christianity (including its heretical offshoots) as it unfolded in Africa, Asia, and the Middle East, correcting a mistaken notion that Christianity has thrived only in European nations and is just now making inroads into these areas. The author also discusses the similarities between Christianity and Islam, and how the two influenced each other as both developed in the Middle Eastern, Asian, and African regions. Additionally, Jenkins also asks his readers to consider what the world and religion would look like today had the Christianity of these regions been more prominent in our minds than our relatively recent history of Christianity. Though somewhat long (but what history isn't?), I found this history fascinating and helpful in examining how our ethnocentric view of history influences our view of the history of religion.
Unbroken is the most up-to-date story of the life of Louie Zamperini, a 93-year-old World War II veteran, prison-camp-survivor, olympian and national hero, who is still living. The book was released in 2010, and has been on many nonofficial and official must-read lists for the last 2 years; it continues to be listed as one of Amazon's top 10 bestsellers. Although Zamperini had already written an autobiography, Devil at My Heels, this book adds additional details from history that were not included (and some not known or available) at the time Devil at My Heels was written.
Unbroken follows the life of Zamperini from a difficult child (including surrounding family history), his confused and angry teen years, his life as an athlete, military man, prisoner of war, struggling vet, and eventually a believer in Christ. The two things that stood out most upon reading this book were 1) my amazement that Zamperini lived through all this (not to mention the fact that he is still living) and 2) the sovereignty of God in redeeming the paths of Zamperini's life and in sustaining and preserving his life. Like many of of the books I've read this year, I was also once again grieved and shocked at the atrocities people all around the world have experienced. I was also thankful for how the author tied some of the events and atrocities in this book to some of the fields of study I've been focusing on lately, particularly our tragic American history of slavery and discrimination. (It was noted that as a troubled teen, Zamperini feared that, as a child of immigrants, he might hav been a likely candidate for sterilization/eugenics.) Andy Naselli shared a quote here from the book on the human need for dignity that Zamperini experienced, a need shared by those in Hitler's concentration camps and by slaves in America (and many other times and places).  If you have a must-read booklist for 2011, I highly recommend putting this book on it.
In this rambling expose of his personal and public life, Frank Schaeffer shares what it was like growing up the youngest child and only son in the Schaeffer household, how his parents public ministry was often different from their private lives (for instance: while his father may have written one of the best books of his time on Christian love, he was at home physically abusing his wife) and how he progressed from the fundamentalism (though a much different form of fundamentalism than what my husband and I grew up in; to some this "label" would mean a conservative (politically and religiously) evangelical) to where he is today.  The most valuable portion of this book was Schaeffer's political analysis, his insight into the way that the Christian right has politicized so much of their rhetoric, and his highlighting the influence that Reconstructionist ideologies and teaching have had on conservative politics at large. At times, Schaeffer's language is colorful, as is his recalling certain memories and experiences.
Rachel Evans shares part of her spiritual journey (and awakening) as she recounts growing up during her high school year in Dayton, Tennessee, as a daughter of a Bryan College (thus, "growing up in Monkey Town") professor. During her childhood, teen years, and time at Bryan college she was taught how to refute the atheists, how to refute other religions, why the Democratic Party was always "against God," and similar. She knew and voiced "all the right answers." Like many in this type of situation, she was also taught to think critically, but was always discouraged from thinking critically about her own belief system.
I found this book helpful, as I had many things in my own thinking and life-situations that were similar to Rachel's upbringing. (Some of these things I've already started writing about in drafts, and perhaps at some point will finish and post here.) Though I may not come to all the same conclusions she has come to, I can say I found many to be very helpful in leading me back to Scripture and in settling my own unrest about certain issues.
I found this quote insightful: "I am convinced that what drives most people away from Christianity is not the cost of discipleship but rather the cost of false fundamentals. False fundamentals make it impossible for faith to adapt to change. The longer the list of requirements and contingencies and prerequisites, the more vulnerable faith becomes to shifting environments and the more likely it is to fade slowly into extinction. When the gospel gets all entangled with extras, dangerous ultimatums threaten to take it down with them. The yoke gets too heavy and we stumble beneath it…"
Something tells me that although I'm in the middle of a couple of print-books, a Kindle book, and and audio-book, I'm not going to finish them all by the end of July. What is it about the summertime that seems to hold promise of a less busy season, but then reality renders summertime life busier than all the rest!? 🙂
For the most part, Daniel and I have been following a similar reading schedule. However, at this point he's a bit farther ahead in the schedule than me. As long as he reads the books I do…then I can discuss it with him!.